About PMID numbers and RIS files
EndNote is a program by Thomsen. It is used to store references and place them into papers. It makes it easy to create a formatted bibliography using EndNote.
There are several ways to add references to EndNote. This is just one. It involves PubMed (http://pubmed.gov) or Hubmed (http://hubmed.org).
When finding a reference, note the PMID number - it is usually listed somewhere in the reference, in the URL bar or in the Medline citation. When adding the PMID number in the next box of http://nephron.com you will get a message similar to this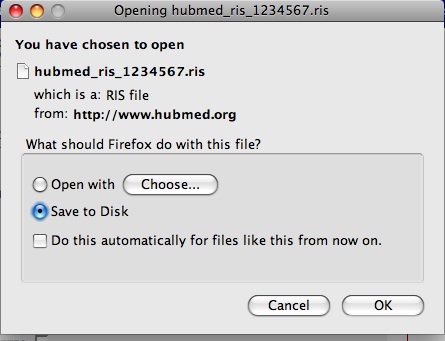 Next, click "OK" and go to EndNote and import this file - and you will see your reference imported into your chosen ENL
What is a PMID Number?
PMID stands for the PubMed Identifier. It is the unique identifier that tags each citation in the database. When searching on nephron.org or PubMed or hubmed.org, simply insert the number. Adding spaces between the numbers allows you to retrieve more than one citation.
When doing complex searches use the brackets with [PMID] behind the number. The AND will also be necessary. For instance "fadem[au] AND 18155110[pmid]" retrieves 1: Adv Chronic Kidney Dis. 2008 Jan;15(1):56-63.
REFERENCES
What is an RIS file?
RIS files are created in the RIS file format, and are compatible with several reference managers like Endnote, Refman and refbase. These archive citations and allow them to be used when preparing articles for journals The challenge of moving a citation directly from PubMed into ones archival library can be resolved by either searching from with the application, or importing an RIS file. Many online journals allow one to export into a reference manager or create an RIS file. Hubmed.org allows this, as well. nephron.org uses the hubmed engine to generate RIS files from Pubmed Unique Identifiers - although one at a time.
Wikipedia has a good article comparing reference managers: Wikipedia: Comparison of reference manager software
RIS format was developed by Reference Manager (refman), owned and operated by Thomsen Scientific - the makers of Procite and Endnote. For specifications see their website http://www.refman.com/support/risformat_intro.asp or the adeptscience website Adept Scientific